July 5th, 2022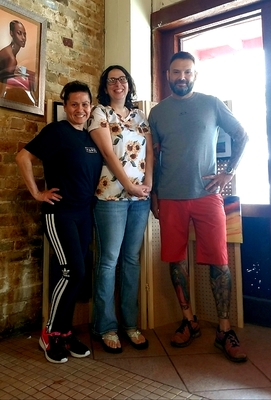 I am so late in posting this... but I finally had an in person opportunity! Back in April, I was contacted by a local coffee shop owner regarding my work. He had seen my profile and contacted me regarding an opportunity he was offering to local artists. He wanted to bring in local artists to show their creations on a weekly basis- no exhibit fee, no commission fee, just a wonderful opportunity. Of course I said yes!

On April 28th, I set up my artwork for display as the first local artist. I loaned the shop my pegboard for other artists to use, and set my stuff up for a week. Nothing sold, but I was overjoyed at the opportunity.

Well... one thing led to another, and I ended up shooting photos of their products for their website; this project is still in process. There's also talk of hanging up some of my black and white photography of the San Antonio mission churches permanently and I am so excited!


On May 21st, I taught my first art class. I really wasn't sure if anyone would come, as it was my first class. Well, my best friend came, and brought five other people. Then, three people that saw my Facebook event came also! I was so excited. For an hour and a half, I taught them how to use watercolor paints and chatted. We talked about everything while we worked- art, how I handle stress working in an ER, mental and physical health conditions, vitamins, a fight they saw... it was so much fun!

I can't wait until next month's class. I will have to write another post about how nice the coffee shop owners are- they are both sweet, honest and interesting people and their shop has a story that needs to be told.

I've also uploaded my historical missions photography on my print on demand website- I'd like to write about these beautiful churches another time.